Emiliana Merlot, Central Valley, Chile
Medium bodied with soft notes of violets, plum and berries on the palate; vanilla and mocha on the long finish.
Il Bucco Montepulciano, d'Abruzzo, Italy
Barnstorming with lively, sweet dark fruits and a nice kick on the finish.
Swallows' Tail, Shiraz/Cabernet Sauvignon, Western Cape, South Africa
Rich and ripe bramble fruits offer an appealing rounded palate. Ripe tannins and well structured.
Hooded Plover Shiraz, NSW Australia
This Shiraz is vibrant with a lifted dark nose, complemented with hints of spicy pepper and liquorice. A smooth palate with soft supple tannins that culminate in a rich ripe finish.
Organic Malbec, Domaine Bousquet, Mendoza, Argentina
An aromatic, heady bouquet of raspberry, bitter chocolate and spice leads to a juicy and rich palate with layers of lush black cherry, mocha and mineral.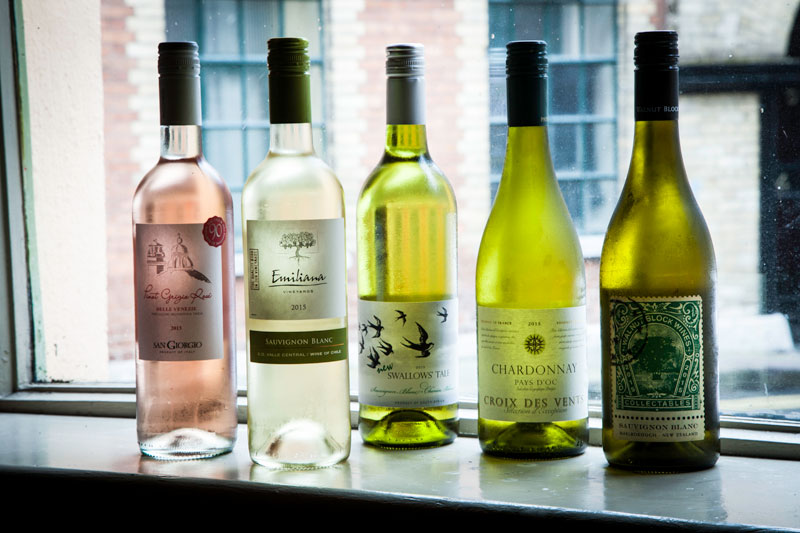 Emiliana Sauvignon Blanc, Central Valley, Chile
Fresh aromas of citrus fruits with herbal and mineral notes. Brisk, lively acidity heightens the pleasingly soft citrus finish.
Pinot Grigio/Garganega, San Giorgio, Verona, Italy
Made form a blend of two local grapes, this wine is spring-fresh with pure green fruits and a dry mineral  finish.
Swallows' Tail, Sauvignon Blanc/Chenin, Western Cape, South Africa
Simple yet elegant green pepper and apple add subtle Sauvignon tones to the more tropical Chenin Blanc.
Croix des Vents Chardonnay, IGP Pays d'Oc, France
Nose is fruity, with some smoky taste. Mouth is rich and full bodied with a long elegant finish.
Walnut Block Organic Collectables Sauvignon Blanc, Marlborough, New Zealand
Intense aromas of melon, citrus and passion suit. Beautifully ripe and vividly fresh with a crisp, pure finish.
Pinot Grigio Rose', San Giorgio, Verona, Italy
A dry, fresh and fruity rose with delicate aromas of red berries. Crisp on the palate with good citrus acidity. Nice finish.