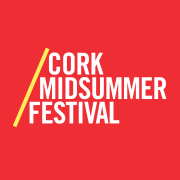 Cork Midsummer Festival 2017
16th – 25th June 
Cork Midsummer Festival is an annual multi-disciplinary arts festival that uses the city as its backdrop and inspiration. It provides high-quality arts events, both national and international, for audiences of all ages. Its programme provides opportunities for significant public participation and engagement, supports the development of emerging artists across all artforms, and provides a unique platform for work by local and national artists.
10 days of dance, theatre, music and much more from June 16th – 25th.
There is such a fantastic line-up of events taking place over the 10 days and just incase you missed it, find the full list of Cork Midsummer Festival 2017 events here.
Stay up to date with all the exciting Cork Midsummer Festival happenings using the channels below!